Our patented Never Slip Baby Socks stay on!
Are you looking for the best baby socks that stay on? Snappy Socks is the brand you need! Our patented Non-Slip baby socks provide an all-day, stay-on fit so your little one can move from crawling to walking without worrying about their socks slipping off. We know how frustrating it can be when those seemingly non-slip designs don't live up to their promises — which is why we created a sock line specifically designed to ensure socks always remain securely in place while out and about. Read on, and discover why our Anti Slip Baby Socks make Snappy Socks the best choice for toddlers aged 6 months to 3 Years!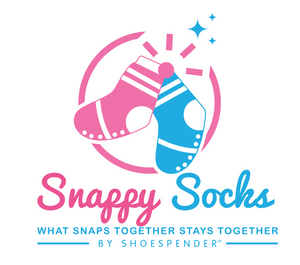 Get Our Starter Pack Today!
Introducing Snappy Socks - the Non Skid baby sock that won't come off!
When it comes to no slip baby socks, parents want to make sure they are both comfortable and safe for their little ones. Are you looking for baby or infant socks that stay on? That's where Snappy Socks come in, your source for Baby socks with grips. These non skid baby socks feature a unique design that ensures they won't slip off those tiny feet. No more chasing after lost socks or worrying about your baby slipping and falling. Snappy Socks are the perfect solution for parents who want peace of mind and comfort for their baby. Looking for Newborn socks that stay on? Try them out and see the difference they make in your daily routine!
The Science Behind Never-Slip Technology
Slipping is a common hazard that we all experience in our daily lives. Whether it's on a wet floor or a slick surface, accidents can happen in an instant. Fortunately, advances in science have led to the development of never-slip technology, enabling us to walk with more confidence and reduce the risk of falls. At the core of this innovation is the silicone heal, and elastic materials with customized grips are all on over the bottom of the sock that provides increased traction and stability on any surface. With never-slip technology, we can now move about our daily routines safely and with ease, no matter the conditions.
Benefits of Non Slip Socks for Infants & Babies
As a parent, you always want to ensure the safety and comfort of your baby. When it comes to keeping little feet cozy and slip-free, never-slip socks are a game changer. These specialized socks offer a perfect fit that keeps even the most active babies from sliding around on smooth surfaces like hardwood floors or tiles. With non-slip socks for baby & infants, you can give your little one the freedom to crawl, scoot, and explore to their heart's content without worrying about potential slips or falls. Plus, the soft, breathable cotton material ensures your baby stays comfortable all day long. Looking for crawling socks for babies? Give your baby the gift of security and comfort with never-slip socks.
Different colors Snappy Socks
There are 3 colors of snappy socks to choose from! These trendy socks can add a fun flair to any outfit, whether you're on a casual day out or dressing up for a special occasion. Some popular colors, and even mismatched pairs for a unique touch. Whether you prefer a playful, colorful look or something more understated, there's a snappy sock style out there for you. Looking for the best website to shop for infant socks? Click here!
See What Parents Are Saying
These socks are the ONLY socks my daughter cannot get off their feet! The free clips are also amazing and keep us from losing shoes! Thank you
Susan Stevie
Absolutely love the Snappy Socks! First opening them, I was very happy the socks are well made and fit well. They have the textured sole which comes in handy when my baby is walking on hardwood floors as well so he does not slip. The free Clip is an amazing invention that keeps his shoes on all day long!
Christina Martonana
My child use to fall constantly while running, not anymore! With these socks, she never slips on our hardwood floors. They cannot be pulled off and the free clips are awesome for when we are at the park! thank you Snappy Socks!
Nancy Lace